The bike tour "Sustainability is on the way" encourages discussion of the global sustainability goals without pointing fingers
For this, it was honored as a lighthouse in the project "Katzensprung 2.0 - Active for climate protection in Germany tourism". The route tested by the ADFC runs in Wesel and Hamminkeln mainly through the Naturpark High mark, among the oldest and largest Naturparken in NRW counts.
Cyclists can next to the niederrheinYou can also enjoy the culinary delights of the region in the scenic landscape with its river valleys, forests, villages and tranquil towns, because there are also shopping and dining options with regional products on the way. The bicycle as an environmentally friendly means of transport will become the connecting element between the stations. Wesel as the start and end point enables an environmentally and climate-friendly train journey. In the bike station "Gleis 31" at Wesel train station, you can book in advance NiederrheinBikes can be rented (0281/47362670).
We wish you a lot of fun cycling on the trail of sustainability! The 17 global goals for sustainable development (Sustainable Development Goals) were defined under economic, ecological and social aspects in the Agenda 2030 in order to enable a decent life worldwide and to permanently preserve the natural foundations of life.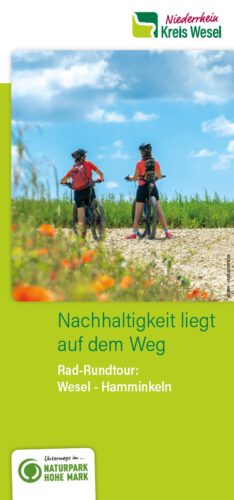 Note on navigation:
The tour does not follow a marked route and is directed
not according to the node system. In the tour portal
www.outdooractive.de are entitled "Sustainability is up
dem Weg (Kreis Wesel)" a detailed description, a map
as well as the GPX track for download. The QR code will guide you
there.