offers in NaturparkHouse Tiergarten Schloss Raesfeld
Tourist information office in Raesfeld
A weekend in the country? An entertaining excursion into an idyllic landscape? the Tourist info im Naturparkhaus direkt im Tiergarten am Schloss will be happy to advise you and put together your individual feel-good excursion programme. Find out more about the historic moated castle and castle community and lots of information about cycling and hiking trails in the region, events and sights. We are looking forward to your visit!
exhibition
We are currently building and beautifying here in the NaturparkHouse. Therefore there are currently no exhibitions. We hope for your understanding.
Extracurricular learning location: Learning workshop of the Borken district
extracurricular place of learning NaturparkHouse Tiergarten Schloss Raesfeld is run by Dr. Stefanie Bölting looks after. It offers events in nature on the habitats forest, meadow, water and soil. The students are invited to get to know the forest in spring and autumn, among other things. Phenomena corresponding to the seasons, such as the early bloomers in spring, the variety of forest fruits in autumn and the feeding marks on spruce cones in winter, are addressed. All offers of the extracurricular learning location enable the students to experience nature with all their senses.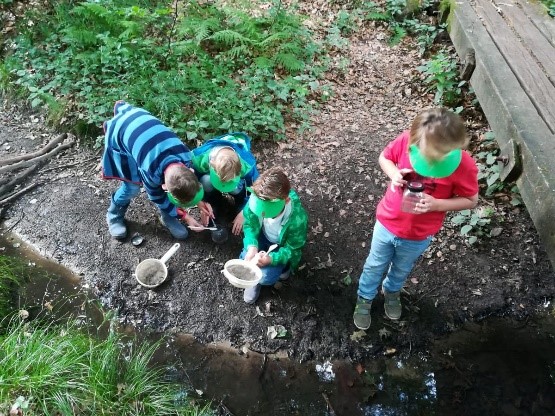 Events
Im Naturparkhaus Tiergarten Schloss Raesfeld no regular public events take place.
Events can be booked for school classes via the learning workshop.
If you want to experience forest adventures with your guests on your birthday, to search for clues, to climb or to be creative, you can book children's birthdays in the Raesfeld Castle Zoo at the Raesfeld Tourist Info.
Guided tours of the Raesfeld Castle zoo and the castle grounds can also be booked through the Raesfeld Tourist Info.
Arrival options
Naturparkhaus Tiergarten Schloss Raesfeld can be reached by bike via the nearby 100 Castles Route and the 3 Rivers Route, which runs through the Tiergarten.
Arriving by car is recommended. Right on Naturparkthere are enough parking spaces available. Parking is free. Parking camping cars/mobile homes overnight is prohibited all year round.
offers on NaturparkHouse Tiergarten Schloss Raesfeld
Zoo
The Tiergarten Schloss Raesfeld invites you to stroll along the Count's paths and, with a bit of luck, catch a glimpse of one or the other stately red deer. On the ponds in the zoo you can see ducks, rails, swans and geese and gray herons.
In addition to the autumn rutting concert, extensive frog melodies can often be heard in early summer as a special background noise. Three circular routes invite you to take romantic walks in the Raesfeld Castle zoo. You can get a hiking map like the one shown here NaturparkHouse.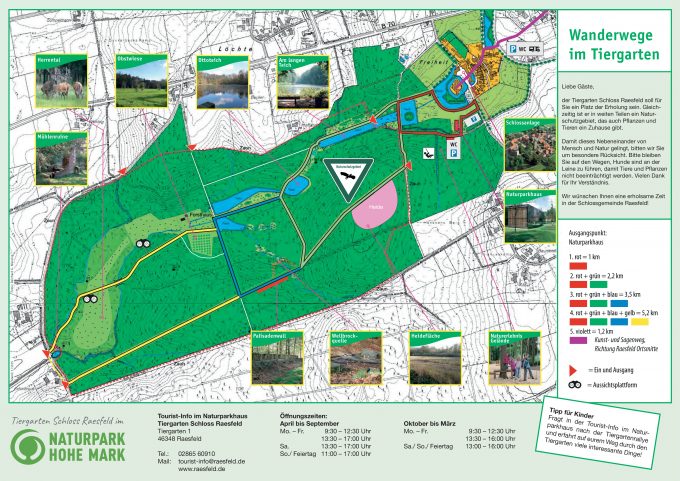 Hiking map of the Raesfeld Castle Zoo
Nature adventure area
Nature adventure area am Tiergarten Schloss Raesfeld invites you to play in nature and with nature on a 5.000 m² area with climbing and balancing paths, low ropes course, cone throwing facility, branch construction site and much more.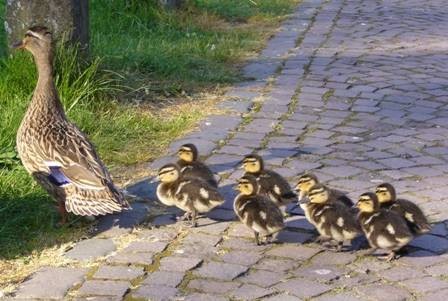 Naturpark High mark im Naturparkhouse
Raesfeld Castle Zoo
zoo 1
46348 Raesfeld
Phone: 02865 - 609-10
Email: np-hohemark@raesfeld.de
Opening hours:
April - September
Monday - Friday 9:30 a.m. - 12:30 p.m.
and 13:30 p.m. - 17:00 p.m.
Saturdays 13 p.m. - 30 p.m.
Sundays and public holidays 11 a.m. - 00 p.m.
October - March
Monday - Friday 9:30 a.m. - 12:30 p.m.
and 13:30 p.m. - 16:00 p.m.
Saturdays, Sundays and public holidays 11:00 a.m. - 16:00 p.m.
Click here for the digital themed trail for schoolchildren

The Raesfeld moated castle has the highest tower of all castles in Westphalia and the associated historical zoo is unique in Germany in terms of its size and type. Why did Count Alexander II create a zoo back then and what is that anyway – a castle garden with animals or a zoo at the castle? Just one of many questions that are resolved in the biparcours.
The starting point is the glass one NaturparkHouse Tiergarten Schloss Raesfeld. If you want to take part in the biparcours, you will receive a map with a 2,2 kilometer route and some prominent points. The path leads to the castle courtyard and there over a former drawbridge into the inner courtyard. The biparcours begins in front of the main castle. This leads to the most diverse, beautiful and interesting places and offers plenty of information with tasks, quizzes and games. History buffs in particular are in the right place here!
Download the free BIPARCOURS app:
Apple Store, Google Play Store, APK file
Open the app.
On the app screen, select "Scan Code" and point the camera at the launch guide code. You will be automatically taken to the start screen of the course.
For information: The use of the Biparcours app is reserved exclusively for pupils.
BIPARCOURS code: