In Naturpark-Kita – nature as a joint project! In Naturpark-Kitas, a project by the Association of Germans Naturparke with Naturparken and day care centers, will be topics of the Naturparks integrated into the children's everyday lives, dealt with in project days or excursions. A conscious examination and sensitization for nature and the environment is desired.
We are for the future!
And we want to arouse curiosity - about nature!
"One of the most remarkable human skills is to work together on problems or tasks that could not be tackled alone. [...] It encompasses the ability to develop goals and attention together with others and the collective motivation to help and share with others. "
Max Plank Institute for Evolutionary Anthropology
The Naturpark, as a protected landscape area whose underlying idea is "protection through use", represents an exciting location for kindergartens: It is a natural place of learning with a wide range of tasks and cooperatives.
In Naturpark Day care centers allow children to rediscover nature, understand connections, get to know their region; look at home from a different perspective. A connection to nature and natural contexts should be built up in mindful encounters.
Children should learn to deal with nature carefully and responsibly, right from the start. First playfully, then of course. The experiences gathered with all your senses encourage you to get further involved with the connections and needs of nature and also to question them, to go on a voyage of discovery.
Where is that better than in Naturpark?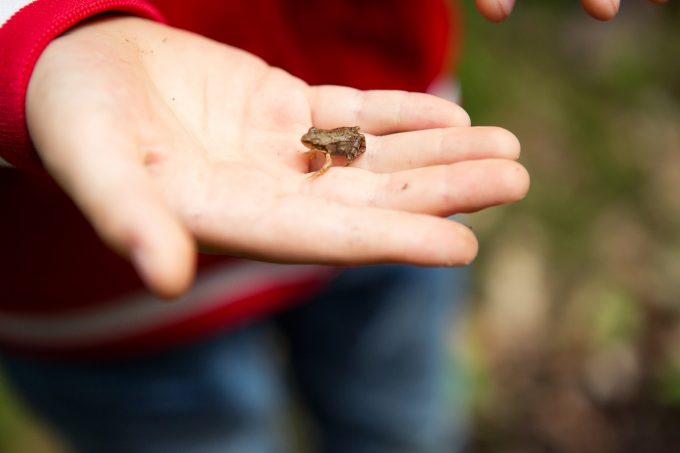 Annually the offers Naturpark Hohe Mark a further training course of at least four hours for pedagogical specialists NaturparkDaycare centers related to Naturpark or ESD (Education for Sustainable Development) to:
Further education in nature education 2023 for educators
Stefan Leiding will lead the training on the topic of bees. This afternoon there will be lots of nature information about wild bees and the best way to surviveteaching food to children in the form of crafts and games.
Further education in nature education 2022 for educators
This year it was about the 17 goals of sustainable development in kindergarten age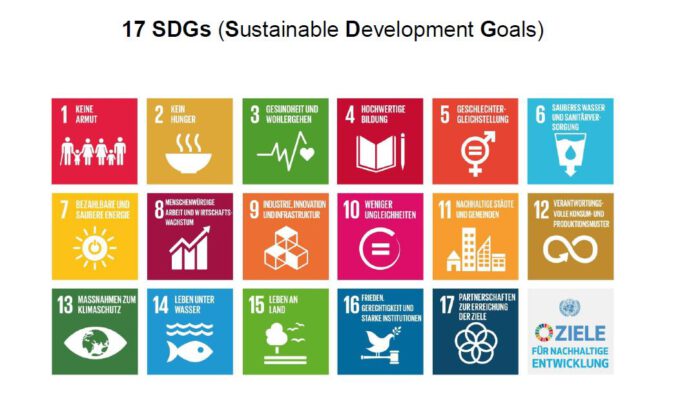 Further education in nature education 2021 for educators
Many questions arise from children's encounters with nature. In the day-to-day educational work of day-care centers, questions about the human-nature relationship and a responsible approach to nature arise.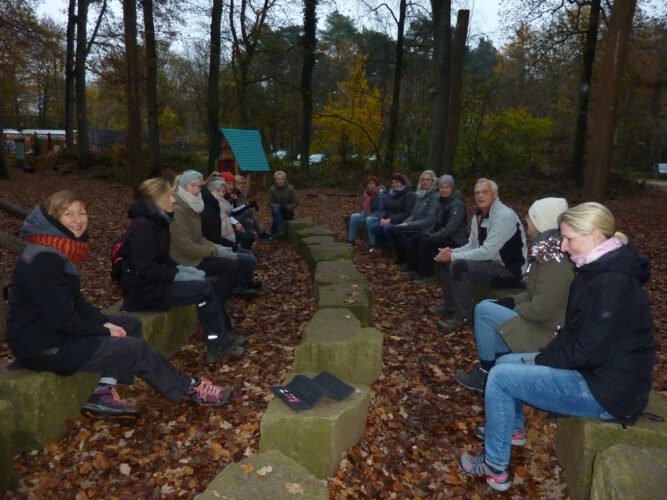 Education is a key pillar of Naturparkwork. The aim is to take up topics relating to nature, the environment, culture and history. in the Naturpark Hohe Mark currently have four day care centers for Naturpark- Have day care center awarded. Part of the collaboration between Naturpark and Kita is an annual advanced training course for pedagogical specialists Naturpark- Day care centers with a scope of at least four hours. After the training could not take place last year due to the pandemic, this year 18 teachers from the Naturpark- Day care centers at the invitation of Naturparks Hohe Mark came together.
The nature pedagogical further education was by Mr. Dirk Nießing (dipl. pedagogue, adventure pedagogue, motopedagogue and individual psychological consultant and coach) in Tiergarten Schloss Raesfeld carried out. Due to the many creative new approaches for child-friendly teaching, the training was also an impetus for your own implementation ideas in the local day care center.
The contents of the workshop were:
Natural fantasy stories
Building and handicraft activities around the autumn
Ecologically sustainable in kindergarten
The following are awarded: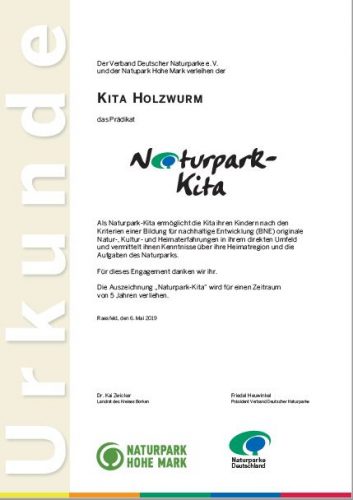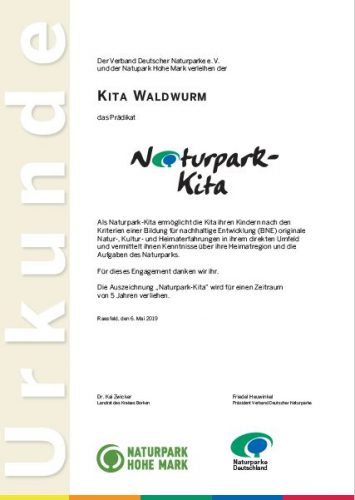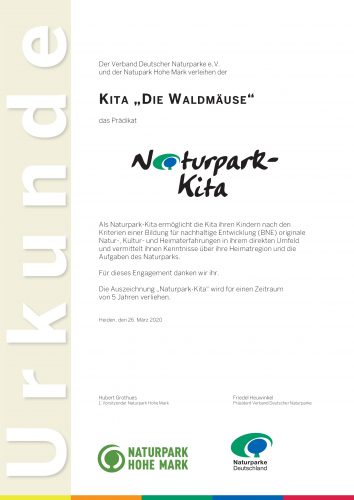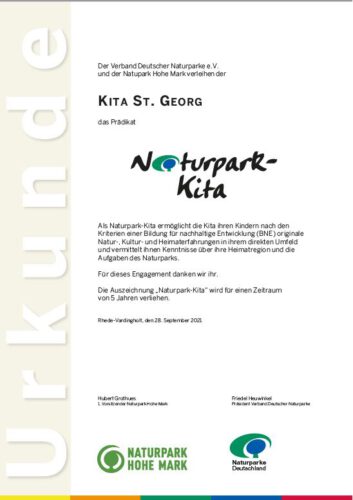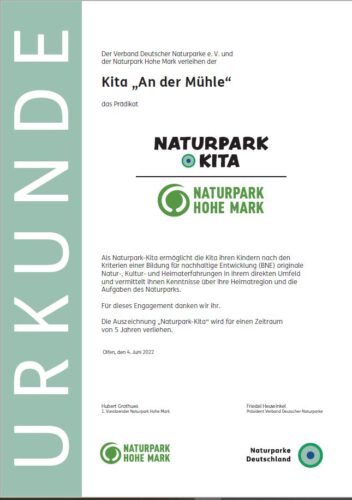 You want to make the children in your facility particularly familiar with nature and with your kindergarten partner des Naturpark Hohe Mark will? You can find initial information in the brochure "On the way to Naturpark-daycare".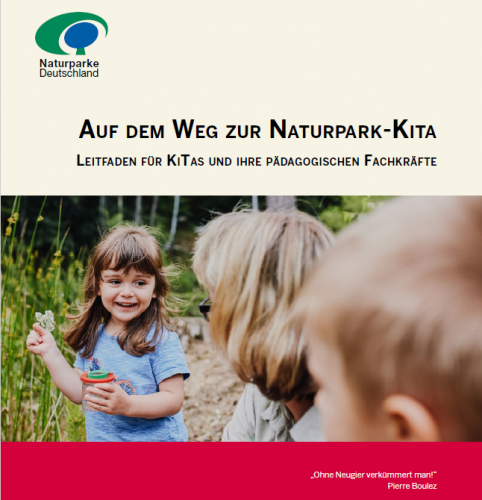 The VDN (Verband Deutscher Naturparke) confers the award 'Naturpark-Kita' for a period of five years. After that, the established criteria for an award will be reviewed for a further five years.
Your contact person in Naturpark Hohe Mark is Mrs. Barbara Krass.
You can reach Ms. Kraß by phone at:
02865-609113 or by email bk-hohemark@raesfeld.de