press release
With the new brochure "Saddle up and switch off... and rediscover bike travel". Hohe Mark RadRoute experience
As soon as you leaf through it, you get the urge to walk through the shady and colorful forests Heiden of Naturpark Hohe Mark to drive - or past glittering lakes, magical moors; to cycle along waterways or through old avenues.
With an attractive design, hot off the press and packed with information, the new brochure invites you to Hohe Mark RadRoute to discover. Under the motto "Your extra lane of nature", the 100-page, high-quality brochure is a guide and companion at the same time.
Everything has been thought of for perfect planning: the overview map gives you a first impression, authentic pictures and inviting texts create a holiday atmosphere.
"What if… you did your next round in the Naturpark Hohe Mark turn..." it says. An exciting request, because the Hohe Mark RadRoute runs over 280 km and through three regions: the Niederrhein, Münsterland and the northern Ruhr area. The starting point and destination can be chosen individually.
There are maps and extensive information for all day tours and circuits. Listening experience stations complete the service.
Things worth seeing along the routes are also briefly described.
As a perfect supplement, the website is accessed again and again using a QR code www.hohemarkradroute.de linked, where all GPX tracks, checklists and much more are available for download.
Christina Illenseer, product manager of the Hohe Mark RadRoute, is happy about the new brochure: "On the Hohe Mark RadRoute everyone can find their favorite tour for a break. In addition to the ten stages of Hohe Mark RadRoute there are also multi-day and day tours to choose from, which have to offer frog concerts, old walls, animal inhabitants and water perspectives again and again".
Impressions of the tours should increase the anticipation of the pedal adventure.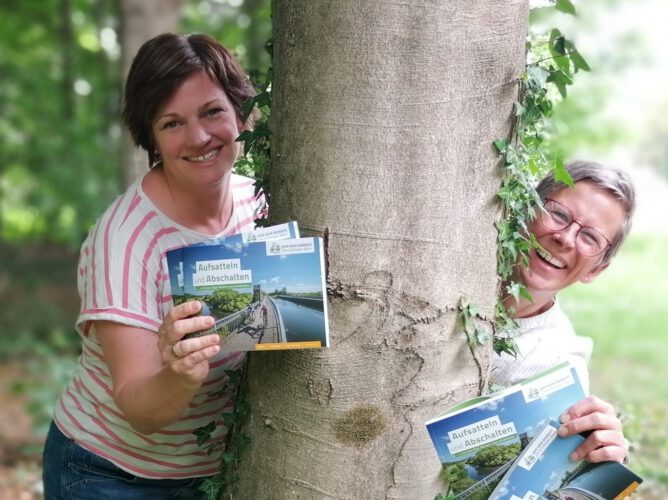 The implementation of the projectHohe Mark RadRoute – new loops" is funded by the state of North Rhine-Westphalia using funds from the European Regional Development Fund (ERDF).
More information about the Hohe Mark RadRoute can be obtained from the following link:
The brochure for Hohe Mark RadRoute is in the tourist info des Naturpark Hohe Mark .