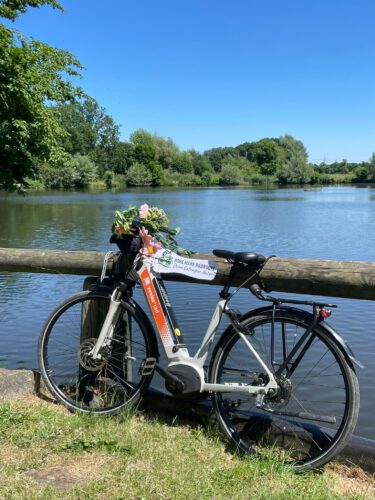 Press Release NPHM 15.06.2023/XNUMX/XNUMX
Premiere tour on the Hohe Mark RadRoute
Naturpark Hohe Mark / DorstenHeiden – tourist, Naturparkleaders, hosts and adfc local groups are invited by the Naturpark Hohe Mark one piece Hohe Mark RadRoute – Celebrity entertainment included!
In Hohe Mark RadRoute, that's 280 kilometers by bike with 10 stages, two cross sections and many jaunts for day trips and short vacations.
The routes and stages lead through shady and colorful forests Heiden, past glittering lakes and magical moors. There are countless insights into the natural and cultural landscape of the Naturpark Hohe Mark – Animal watching included.
Christina Illenseer, project manager of the Hohe Mark RadRoute, organized a very special event on the route on June 14, which is also a thank you to all those involved for their active support in implementing the project.
"The tour shows everything for which the Hohe Mark RadRoute stands for: experience density, varied landscapes, native animals, well signposted paths," says Illenseer.
From Dorsten main station it goes to the Lippe and the Lippeauen, to the Hervester Bruch, on to the Tüshaus Mühle, the Rhader Wiesen and finally to the Kranenmeer in Heiden.
With the best entertainment and the wit of radio presenter Olli Briesch, the 21 participants cycle through a beautiful landscape. Right in the middle: storks, water buffalo and heck cattle. "Great tour with an impressive landscape. Finally I don't have to have a guilty conscience about taking breaks all the time on a bike tour, because there's always something great to admire here!", Olli Briesch says happily.
The entire tour is filled with moments of surprise: Participants are given safety vests with a slogan and small flower vases attached to the bikes.
A food truck with fine dining and local brews for refreshment are available - all regional, of course.
What remains after such an extraordinary day is the memory of a special experience. And that's waiting for all that piece Hohe Mark RadRoute drive: The extra lane of nature in the middle Naturpark High mark.
Who more to Hohe Mark RadRoute and for Naturpark Hohe Mark would like to find out, you can do so at www.hohemarkradroute.de and www.naturpark-hohe-mark.de .
In Hohe Mark RadRoute is a funded project that was implemented over four years, with grants from the state of North Rhine-Westphalia using funds from the European Regional Development Fund (ERDF).
The route leads through 17 member municipalities: Bocholt, Borken, Coesfeld, dates, Dorsten, Dülmen, Gescher, Haltern am See, Hamminkeln, Heiden, Isselburg, Olfen, Raesfeld, Reken, Rhede, Schermbeck, Velen.
In March 2023 is the Hohe Mark RadRoute been awarded 4 stars by the adfc (Allgemeiner Deutscher Fahrrad-Club eV).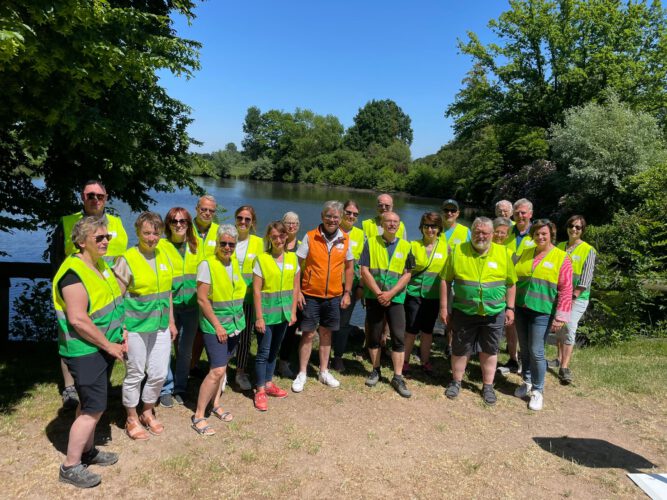 Photos (photo author: Naturpark Hohe Mark / Mareen Groß-Hardt) and captions:
Photo 1: Hohe Mark cycle route premiere tour group photo
"Cycling in the best weather on the Hohe Mark RadRoute – the participants of the premiere tour"
Photo 2: Hohe Mark Cycle Route Premiere Tour Bike
"Idyllic landscapes along the Hohe Mark RadRoute"
Photo 3: Hohe Mark cycle route premiere tour break
"Delicious stopover with a visit to the Tüshaus mill"