Real old world pigs and excellent swimmers. The wild boar (Sus scrofa) is probably the most adaptable animal in our cultural landscape.
There is an abundance of food here due to increased corn cultivation and mild winters. This is entirely to the taste of the wild boar, for which two things are particularly important: good hiding places and water.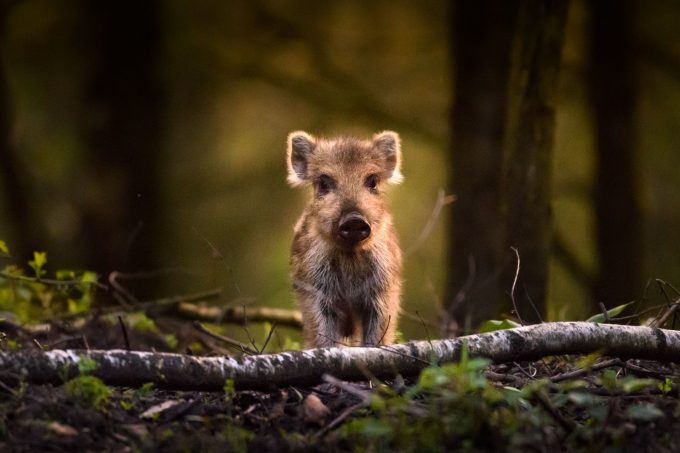 For the omnivore, the menu is always full and with a stately height of 1,20m to 1,80m and a weight of up to 200kg it does not have a lot of enemies. Only the wolf or the lynx come into question.
As rustic as the animal looks, the canines of the male wild boar can be just as dangerous. However, these are only used in the case of defense or during the rank fights during the mating season, between November and January. In the spring - after about four months of gestation - the baby babies are born. About six in number. Living in the wild, wild boars can live to be eight to twelve years old.
Good to know
The rule that the female wild boar get freshlings once a year is out of date. The good food supply and the climatic conditions ensure several litters a year. The animals now also like to settle in urban areas. One can already guess that this leads to conflicts. The bustling wild boar is nocturnal. His eyes are also more suited to twilight vision than color vision! The animals cover up to 20km on forays out into the fields! If the boar is in a great hurry, it can go up to 50km / h. You don't look at him at all, do you?
The German poet Hermann Löns (1866-1914) described the wild pig like this:
"The old boar let it get night before he left the thicket. He kicked out where the wind was against him, and then only when he had secured a quarter of an hour. But then he amused himself with breaking up the rotten spruce stumps on the overgrown clear-cut, for they were full of beetles, larvae and snails. Then he chased a pheasant hen from her clutch, ate up all of the eggs, let a lot of the brood of mice and a young hare wander behind them, and didn't forget to plow the piece of oat around, because it was full of grubs. Then he rubbed himself extensively on a resinous spruce, turned a potato field into a fall field, completely ruined a seed camp and slept around the time when the farmer and the forester were at the site of his crimes, half a mile further in the deepest forest. "