Noticeably short-lived. Above all, the removal of old and dead wood, the felling of old trees, the planting of non-native species and the loss of old trees without replacement in avenues and orchards are seen as the reasons for the decline in the animal species. The stag beetle (Lucanus cervus) is listed on the nationwide Red List in Category 2 "highly endangered".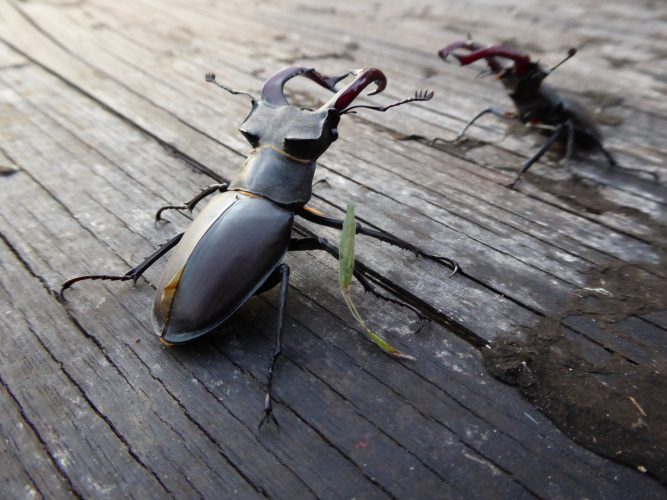 The males are characterized by a greatly broadened head. They have a powerful, antler-like upper jaw and can reach a height of up to nine centimeters. The females grow up to six centimeters. This makes them the largest beetles in Central Europe. However, only the males wear the antlers.
Stag beetles live in old oak and mixed oak forests, beech forests with dead wood or dying old wood. He is extremely local. During the mating season, the beetles swarm around in deciduous forests. For the maturation of the germ cells, males and females need tree sap, which contains certain fungi. The sores on trees are caused by frost cracks, lightning strikes and windbreaks. After mating, the female digs between 30 and 50 cm deep into the ground and lays 50 to 100 eggs on rotten rootstocks over the course of two weeks. It can take anywhere from three to seven years for a larva to become an adult beetle, but life expectancy is just a few days to eight weeks!