Natural spectacle in the Zwillbrocker Venn. It is the world's northernmost breeding colony of flamingos (Phoenicopteridae), located in the Zwillbrocker Venn - north of the Naturpark Hohe Mark – has settled since the 1980s. At first there were only a few Chilean flamingos, later European pink flamingos were added. Caribbean and Lesser Flamingos sporadically visit them. You only leave the Zwillbrocker Venn for a short time, in winter. Their origin cannot be fully clarified. Escapes from zoos or individual housing are suspected.
With a weight between 2 and 3,5kg, the birds reach between 100 and 150cm in size. They owe their pink color to their food, because when they filter the water they pick up small crabs. Their coloring agents, the carotenoids, then provide this characteristic color. The newborn flamingos are initially white.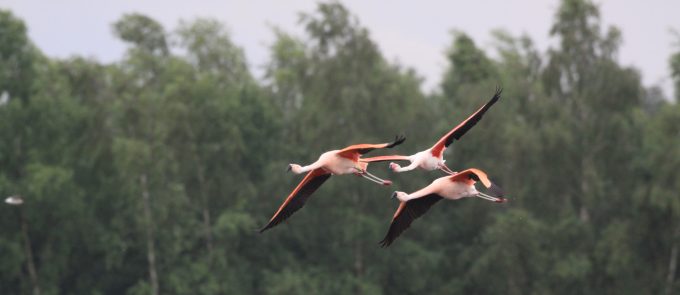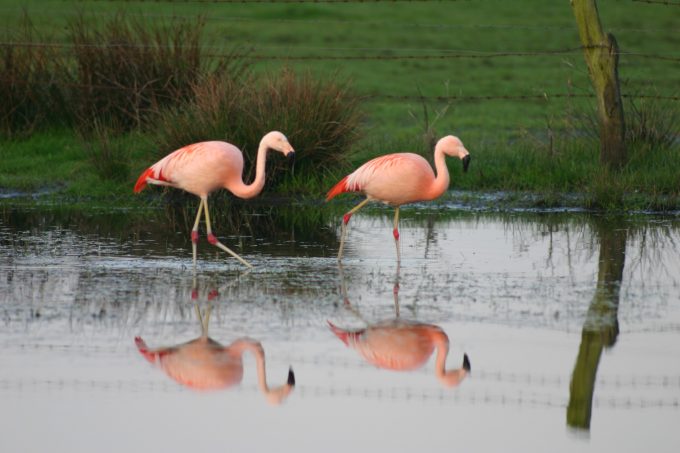 April and May are the breeding season in the Zwillbrocker Venn and the time when up to 70 flamingos can be observed. Flamingos breed on their self-made mud nests mostly in the middle of lakes. So they can devote themselves to the breeding process undisturbed and are spared from predators.
Flamingos are colony breeders. They only lay a single egg, which is incubated for about four weeks. Both old animals take turns during the brood and supply the young with the so-called goiter milk, which is formed in the upper digestive tract.