Crossing with muscle power. 2005 was the Lippe ferry "Baldur" as the first passenger ferry of the Lippeverband put into operation.
"Baldur" got its name from the mine that mined coal in the south of Dorsten in the 1920s. At that time, a small wooden ferry boat crossed the Lippe to bring miners to work.
Today the ferry connects the districts of Hardt and Holsterhausen. Up to eight people can cross the Lippe with a hand crank and dry feet per ride. The ferry connection is in theRömer-Lippe-Route" integrated.
Tips and instructions for the crossing can be found on the signs on the ferry.
The "Baldur" can be used for crossing from April to October. Then it goes into the winter break.
"Allis shad" ferry bring yourself dry with a hand crank in Haltern-Flaesheim over the Lippe. The ferry is designed for six people and bicycles.
The ferry was put into operation in 2015. It is part of the long-distance cycle path "Römer-Lippe-Route", which leads from Xanten to Detmold.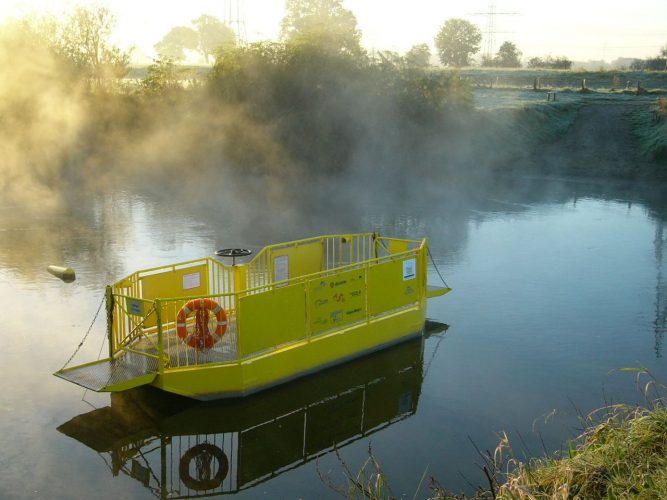 "Cross driver" is the name of the passenger ferry that you can use in Wesel (district Obrighoven) to land over the Lippe.
It offers space for up to six people and bicycles.
In 2006 the "Quertreiber" won the German bicycle award "best-for-bike" in the category "Most bicycle-friendly decision". This is the highest award on the subject of bicycle traffic in Germany and a special award for Wesel as a bicycle-friendly city.
Between April 16 and October 14, if the weather is good and daylight, "Quertreiber" will be available for you to cross the Lippe.