8th grade students from the Jeannette Wolffs School from Dortmund were guests at the Biological Station in the Zwillbrocker Venn in Vreden and dealt with the effects of human trafficking on the forest on the Nature Action Day.
The 8th grade of the Jeannette Wolffs School drove to the Biological Station Zwillbrock to find out more about the 17 Sustainable Development Goals (SDGs) of the United Nations (UN) and the various tasks of the forest. A selection of the various goals from the topics: culture, politics, ecology, economy and social issues were discussed in the chair group. In the subsequent active question and answer session, each student was able to express his or her own opinion on given questions. This was followed by a digital nature adventure rally in the area around the Zwillbrocker Venn. In small groups, the students set out to answer assignments on local issues as well as general nature conservation issues. Background information rounded off the biparcours. The rally covered all 17 goals for a world worth living in and on the way the nature reserve was explored by the participants.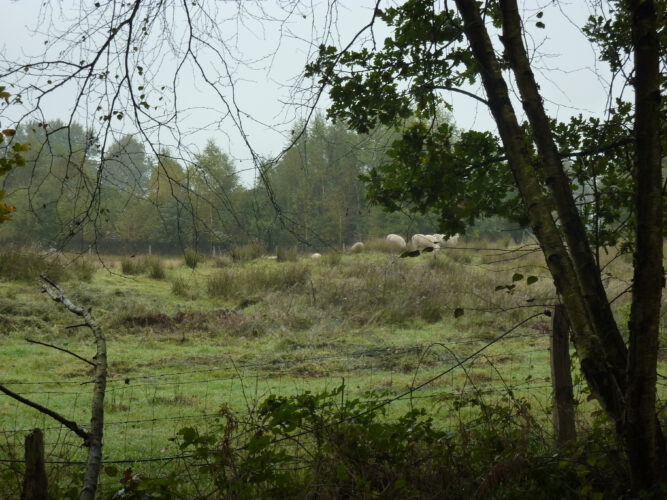 In the premises of the biological station, the questions of the biparcours app were discussed afterwards and the opinions of the students were asked again.
Due to the active discussion of the 17 sustainability goals, the questions in the opening round were now answered differently by some students at the end of the nature action day and a rethinking became clear.
The nature action day was made possible by the mediation and support of the Association of Germans Naturparke e. V., as well as through the financial participation of the company Kaufland, who have set themselves the goal of offering school classes with a high proportion of children from socially disadvantaged families a nature experience trip to a neighboring Naturpark to enable, as these children often have few opportunities for nature experience. The nature action day was organized by the Naturpark Hohe Mark e. V.