cooperation of Naturpark-Kita St. Georg and dem Naturpark Hohe Mark picks up speed!
Kita St. Georg with its two locations in Vardingholt and Büngern as Naturpark-Kita was awarded at the potato festival.
There was a double reason to celebrate at the St. Georg day care center. In bright sunshine, numerous kindergarten children came with their parents to the Garbert family's potato field. Equipped with buckets and potato sacks, the freshly made potatoes were eagerly harvested and the thickest potato was put aside, because every child wanted to find the potato king while collecting. The potato from August weighed 375 g, which clearly earned it the title "Potato King". After the good harvest was thanked with a song, the second highlight of the day came. After Ms. Levers, head of the day care center, had informed everyone present about how the wish "Naturpark-Kita" to become the award, the certificate was presented. Ms. Stefanie Weidemann, Verbundleitung, congratulated with the words: "I am pleased about your commitment and that the St. Georg day care center is now "Naturpark-Kita" is
The St. Georg day care center is the 41st. Naturpark- Day care center of the 105th Naturparke in Germany and the 4th in Naturpark High mark.
Many questions arise from children's encounters with nature. In the day-to-day educational work of day-care centers, questions about the human-nature relationship and a responsible approach to nature arise.
"In the St. Georg day care center, many natural themes are already being addressed and dealt with in a child-friendly way in the kindergarten year, and therefore the St. Georg day care center is quite right from today Naturpark-daycare. We look forward to planning joint campaigns in the future and to a lively exchange in order to learn from and with each other and to mutually benefit from the network," says Barbara Kraß, office Naturparkwho was allowed to present the award.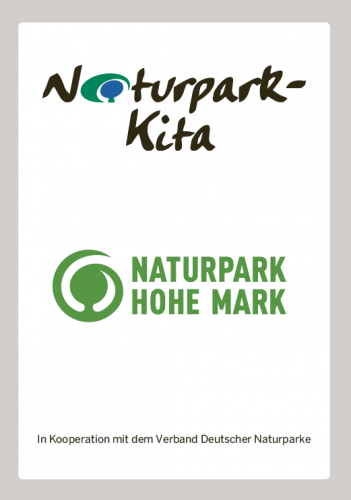 The award "Naturpark-Kita" is awarded for a period of five years. Every five years, the Naturpark, whether the VDN in cooperation with Naturparken and day-care centers for the award for a further five years as "Naturpark-Kita" are fulfilled.
The structure of the project Naturpark-Kitas was supported by the German Federal Foundation for the Environment. The project has received further support from Kaufland since mid-2018.