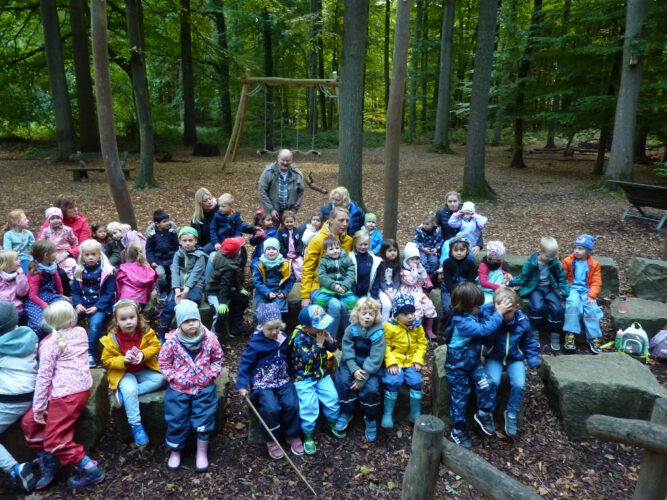 Expectantly, 48 daycare children and 10 educators from the St. Franziskus daycare center got out Borken from the bus to im Tiergarten Schloss Raesfeld to spend a forest adventure day.
Under the expert guidance of Mr. Arno Straßmann, geologist and certified nature and landscape guide, the children experienced a forest discovery day.
The children listened to Mr Straßmann's explanations with great enthusiasm and had a lot of fun researching, discovering and playing various forest games.
This excursion was made possible by the Town and Country Foundation, which donated the money from the "Forest Knowledge" sub-project for this forest excursion day Naturpark Hohe Mark had made available and through the cooperation with the office of the Naturparks High Mark. Educational institutions and organizations for children and young people, such as day-care centers and schools, can apply for this year's Forest Knowledge theme year. The topics for the coming year can be found in the information below.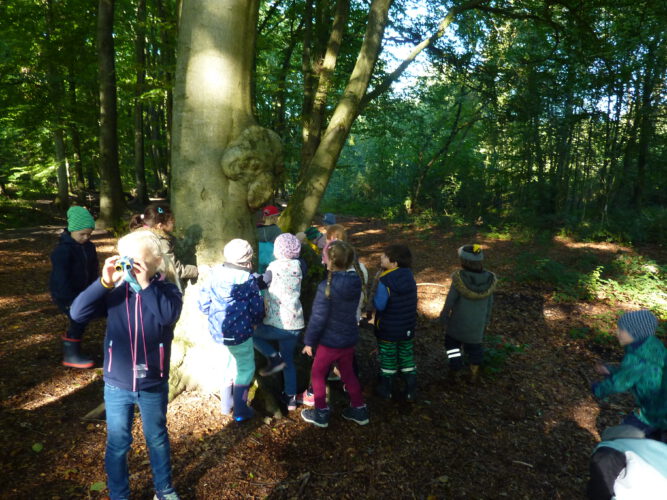 Source of the following excerpt and further information at: https://www.tc-stiftung.de/volks-und-berufsbildung/
In order to sensitize children and young people to the issues of nature and the environment, the Town & Country Foundation has always been involved in this complex of topics with nationwide projects and shows how nature and social cohesion can go hand in hand. Positive nature experiences promote the personality development of children. Knowledge about the importance of biological diversity and the protection of the environment is imparted through playful and research-based experiences of nature.
How do we want to live, what is important to us and... what kind of world do we want to leave behind for our children? Questions that will demand new answers from us in the near future and also question our current lifestyle. It is foreseeable that we will have to rethink and change our "more, more, more" with regard to our resource consumption and consumer behavior.
We need ideas for a sustainable lifestyle and people who live it with conviction. Successful educational work enables young people to treat our planet responsibly today and to develop creative solutions for the future.
In cooperation with the Confederation of National Natural Landscapes the foundation is increasingly dedicated to this topic and in 2021 in the first theme year "FloraFauna" carried out a total of 227 environmental education projects for children's facilities nationwide with its 240 foundation ambassadors. Impressions from the theme year 2021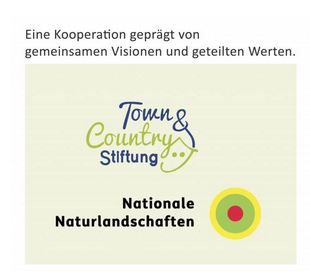 With technically well-founded support and the development of educational modules through National Natural Landscapes, future generations will learn how to deal with our environment in a sustainable manner.
For a future in which it goes without saying that experiencing nature and sustainability are part of everyday life for everyone and the preservation of biological diversity is secured. And for an education system in which children learn in a playful and joyful way, in order to be able to act actively and sustainably and to learn to treat nature and the environment with consideration and respect.
With this project, educators and children are given tools to change the world in their own environment and make it better. And children are encouraged and empowered to take responsibility for the preservation and design of their environment. These goals are carried to the regions nationwide by the ambassador network of the Town & Country Foundation.
The overall project My Environment. My responsibility. is divided into four theme years with the modules:
Educational institutions and organizations for children and young people, such as day care centers and schools, can apply for this year's Forest Knowledge theme year to: Ms. Sarah Schütze, sarah.schuetze@tc-stiftung.de, phone: 0361 644 789 14