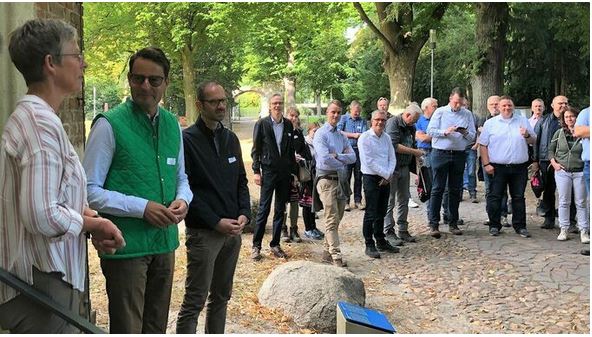 Start of the hike Photo © District Government of Münster
Press report from the district government of Münster
Muenster/Lüdinghausen. Of course there are shorter ways from Vischering Castle to the castle Lüdinghausen - but hardly more beautiful than the Burgenweg, which the around 80 participants of the "4. Naturpark Hohe Mark-Wanderung" today (September 2, 2022) under the patronage of District President Andreas Bothe through the historic cultural landscape of the Münsterlands went. "Of the Naturpark Hohe Mark connects that Münsterland and the Emscher-Lippe region, and also our administrative district with the Niederrhein and neighboring municipalities in the Metropole Ruhr. Today's hiking trail is also an expression of the active cooperation in this region across the borders of communities, municipalities and districts," said the new Münster district president when welcoming the participants.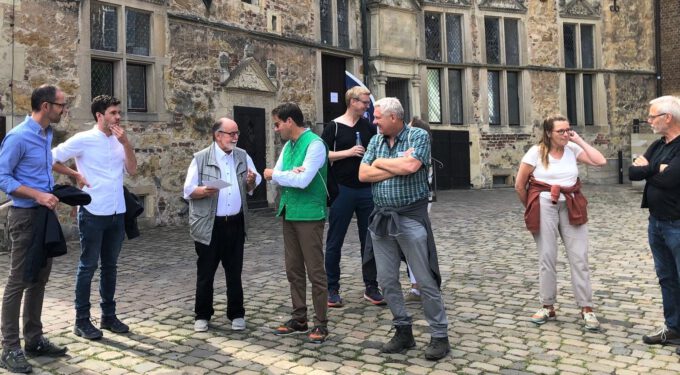 After six kilometers of hiking, arrival at the Renaissance castle Lüdinghausen Photo © District Government of Münster
The started from Vischering Castle Naturpark-Hike initially along the Stever to the north-west, from there to the Biological Center in a long stretch Lüdinghausen am Klutensee to reach. Then we went to the castle Lüdinghausen, where the participants had a snack in the chapter house of the castle. The castle hiking trail (one of two in Lüdinghausen) was only officially established three years ago. It is based on an initiative by the "Haard Trapper Wanderfreunde". Datteln back and was developed together with the district of Coesfeld and other participants.
In addition to District President Andreas Bothe as patron, the 4th Naturparkhike also district administrator Christian Schulze Pellengahr (Coesfeld district), mayor Ansgar Mertens (Lüdinghausen), Count Droste zu Vischering and representatives of the Hohe Mark Association and the Biological Center Lüdinghausen part. the Naturpark-Hike has been one of the most popular network meetings in the administrative district for four years and was also able to take place during the pandemic years 2020 and 2021.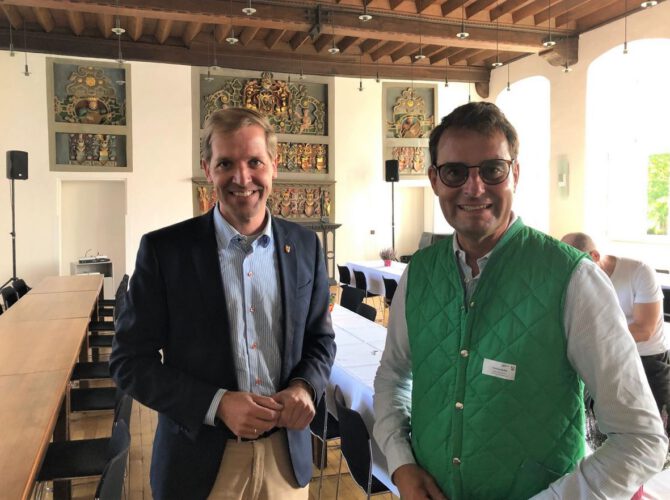 RP with district administrator Christian Schulze Pellengahr (Coesfeld district) in the chapter room of the castle Lüdinghausen Photo © District Government of Münster